I am a big dummy! I had this down in my calender for today, when in fact the link up actually started yesterday. Opps. Good thing is that I'm still able to join, and hopefully find me some internet sisters.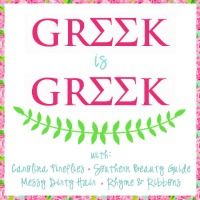 I'll be honest, I went into sorority life looking to party and meet guys. I really had no idea what being in a sorority entailed other than what I had seen on that old MTV show. Anyone remember that one? Well, I got my fill of parties, met tons of people, plus plenty more! Becoming a Phi Mu was truly a life changing experience.
I need to start from the end and say that without having joined a sorority in college, I can guarantee that there's no way that I'd be where I am today. I wouldn't have found my amazing husband or had the two little trolls that I love more than anything in the world. Shout out to my sisters for
making
me go to the FIJI house for fraternity rush.
So I went into sorority recruitment with opinions based off of what my friends were telling me. You know, which sorority was the good one and which ones I wanted to avoid. Needless to say, I was dropped by my first choice. It pretty much crushed my soul. And then I met the sister who ended up becoming my big sister. She was nice, pretty, and even had a tattoo with a Phi Mu meaning behind it. That's what I wanted. I wanted a sorority that meant so much to me, that I'd be willing to tattoo it on myself.
At first, being in a sorority was not what I was expecting
at all
. We had to learn stuff, like the Greek alphabet and
history
. Not quite what I signed up for. Where were the parties?! Who knew that all of that history would turn out to be the important part and what I actually remember now, four years after graduation. Fun fact: Phi Mu is the second oldest Greek letter organization for women.
Something else that I didn't expect was all of the volunteering and philanthropy that was associated with being Greek. Being in a sorority is hard work! We held our own events, supported the events of other organizations, and prided ourselves on raising the most money for Dance Marathon. It wasn't until after I became a mother that I really realized all that the Children's Miracle Network does. I thank God that both of my babies are healthy. Knowing that I helped to donate to hospitals that take care of sick children is an
amazing
feeling.
Go get yourself some ice cream. TODAY!


Leadership took a ton of work as well. Throughout the years I held plenty of chair positions. The pinnacle of leadership was my junior/senior year as the recruitment director. Recruitment takes effort. After all, you're securing the future of the sorority. It was a frustrating but rewarding experience. Not everything went according to plan, but my two littlest sisters were a result of that recruitment, so it was definitely a success.
One thing that I didn't expect, was the opportunity to travel. I was able to go to a few leadership conferences in Georgia, some social events, plus all of the unofficial trips that sisters took for fun. Being that I lived at home during college, and we didn't have a house, some of our travel felt like it was the closest we got to
real
sorority life. A bunch of college girls away from home is a fun time!
Can't forget that time that we stopped in Godknowswhere, GA for tattoos and piercings by a guy with leopard hair.
One of the greatest things, other than the Hubster and the babies, to come out of sorority life is my bestest best friend in the whole world. Through thick and thin, up and down, we've always been there for one another. When I go home, she's the one person that I
always
have to make sure I see. I love this one so much that she got to be there when V was born, and later became her Godmother. My parents have also adopted her, since we're just about inseparable.
Not only did I gain sisters, but some
brothers
as well. I have my big and little brother, who have both literally become part of my family. "Little" who also happens to be Hubster's little brother, is V's Godfather. "Big" is in Army, sometimes it feels like he is the only person that I can relate to in real life. Plus a handful of others that I absolutely still adore!
I got the tattoo, plus all of the meaning behind it. A chapter that loved and supported me. Friendship, philanthropy, leadership, new experiences. A million things that I had no idea were even missing from my life until I joined Phi Mu.
Check out my fantastic sponsor: