A sort of funny thing happened to me yesterday. The girls and I had been stuck in the house all day, so I thought we should at least go for a drive to get out and pass by Panera to get myself a latte. I even decided to be nice and bring Caesar, since I figured he wouldn't mind getting out of the house. This week we have a rental car since the Tahoe is in the shop having repairs made from when it was broken into. Since I'm not using my regular key set, my house key isn't on the set. I didn't realize that though until after I locked the door handle and shut the door behind me. At the time, Hubs also happened to be in a brief without his cellphone. Lucky me!

We ended up driving around for over an hour, but we still had another hour until Hubs was scheduled to be home. I wanted to stop by Walmart just to walk around, or maybe even buy a hose toy for the girls to play in since it was so hot, but no, we had Caesar and couldn't just leave him in the car. Instead, I drove us home and just opened the faucet on the porch for the girls to play and the dog to drink. It wasn't much, but they had a blast with just that.
I was chosen as the mystery host for Walkabout Wednesday! This is one of my absolute favorite linkups that I've been participating in for a while now. Check it out below!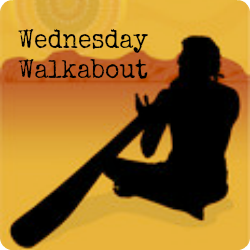 What is a Walkabout? It's a blog link-up party, every week here and with our co-hosts! Simply put your blog address or a specific post in the linky, visit some other people, and make some friends. Easy at that! I can't wait to talk to everyone!
PS: You only have to link up with ONE of the co-hosts!
The Rules:
1. Please follow at least ONE hostess, and let us know you're a new follower and how to follow you!
To be entered as next week's Mystery Host, follow all hosts from this week.
Mystery Host Alex Munchkins and the Military
2. Try to visit 3-4 blogs that interest you. Take some time and let them know where you came from.
3. Grab the button and spread the word! (Not required, but just cool if you do). The more, the merrier.